Ilves' 2021 – an action-packed year
What an action-packed past year we have had, and what an exciting year ahead we have to look forward to. We would like to thank all of our clients and business partners for the confidence and great moments on our path this year! We are starting the year with confidence and anticipation.
Moving forward with 10 years of experience
Ilves Solutions Oy was founded in 2011. We have therefore just celebrated our 10 year anniversary. Due to the pandemic, it was quite impossible to find the right date for an anniversary party, considering that we also decided to move into new premises in Espoo. Therefore, we didn't have any other option but to postpone the celebrations. Instead of putting effort into looking at our past, we focused on the future needs of our clients and decided to celebrate our accomplishments and our ongoing story at a future point.

Legal tech as the spearhead of our growth
We put all our effort into further developing Ilves Enterprise Suite products to meet the growing needs of the legal field. Our 'get the information you need from one place' software products naturally serve other professional service fields' experts as well, such as ICT professionals.

In addition to carrying out demanding data integration projects, we have executed the following investments that enable us to serve the legal field globally and to scale our growth:
Cloud hosting alternative for all Ilves Enterprise Suite products.
Microsoft O365 data source bundle including Microsoft Outlook, Teams, Sharepoint, OneDrive and Office applications ready-made integrations.
iManage Work data source integration (i.e. ready-made integration).
Ilves MyActivities basic activity and time tracking product. The pro version with billing system integration will be launched soon.
Microsoft Teams App for Ilves MyActivities (and for all other future Ilves products).
We published an updated www.ilvessolutions.fi website. See new products and solutions:
o Ilves EMIE (Enterprise Metadata Indexing Engine)
o Ilves MyActivities (30 s. video)
o Ilves Data Boards
o Ilves Legal Tech advisory services
Moving to Espoo and the renewal of our own IT infrastructure.
Nordic Legal Tech Day Helsinki conference in collaboration with Laissa Oy and Relevant ApS.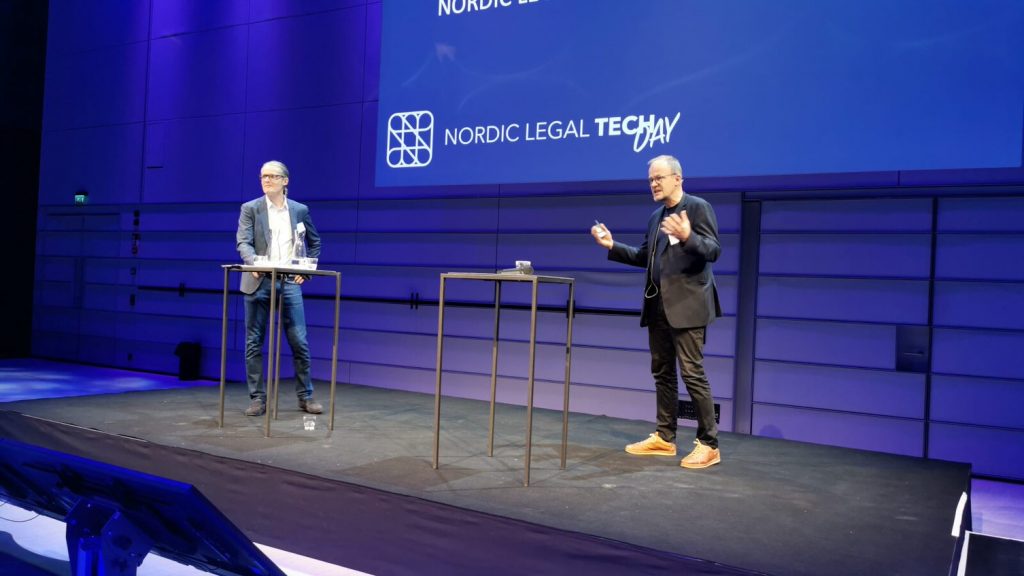 In addition, we organized five Legal tech glögit network events with the leading legal field players in Finland to further build a common language and to speed up the digitalization of the field. Read about these sessions on my profile page.

The decision to choose legal tech as the spearhead of our productization activities turned out to be the right decision for us at the current place on the firm's path. We were happy to commence collaborations with several leading players in the legal field.
On a mission to making data valuable and creating well-being for professionals
I'm proud of our top team's achievements and grateful for all of our partners who helped us in the process! As a team, we accomplished a huge number of important goals and also integrated social responsibility when it came to the development of the legal field. Above all, we learned a lot together as a team during the previous year as well as with our extended client and network teams.

In 2022, we will continue making data valuable as defined in our mission 2019. The past pandemic years have however further crystalized our mission with an important additional human aspect. We have understood that we can improve the quality of life for professionals and at the same time, be able to reduce the waste of time and money from our clients' operations. It's inspiring and it keeps us motivated.
Ilves' new year
2022 looks promising. It is however a reality that the business environment is currently unstable in many ways. The implications of the current and potential future turmoil are difficult to predict. In any case, our new client relationships will increase our turnover.

Growth will also be generated due to the launch of our new legal tech products. We believe that over the next year a growing number of legal teams will invest in knowledge management and on improving their employee and client experiences on hybrid work. Ilves Enterprise Suite product portfolio consists of 'one place' software products to achieve these goals.

We also hope to welcome new entrepreneurial teammates to join our development and client teams.

Have an exciting year and stay safe!

Kind regards

Heikki