Legal Tech Glögit – A Panel Discussion on the Skills of Future Lawyers
Text: Jaarle Lehtinen and Sonja Kojo . Both are legal tech trainees at Castrén & Snellman. Translation: DeepL & Silva Kirkkomäki, Associate lawyer at Familja.

The Legal Tech Glögit networking event held at Castrén & Snellman on October 24th brought together legal professionals to reflect on the toolkit of the future lawyer.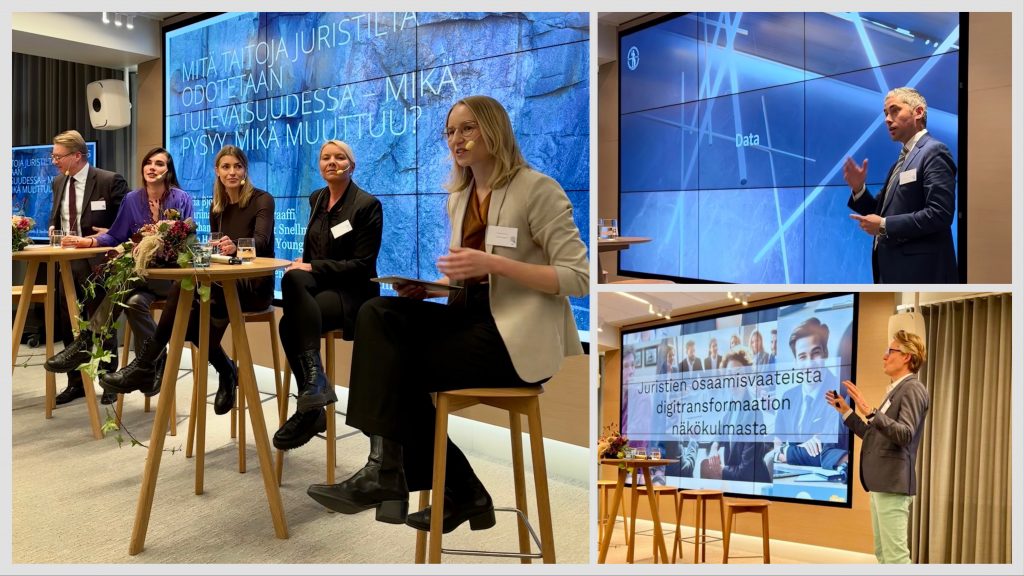 The evening's program started with speeches by Heikki Ilvessalo, CEO of Ilves Solutions, and Niko Jakobsson, Secretary General of the Finnish Bar Association, who discussed the skills required for digital transformation and the future of the legal profession.
The event culminated in a panel discussion with four experts sharing their insights: Katariina Tuomela, CEO of Paragraaffi and expert in labour market research; Reino Hyvärinen, Partner at EY and Head of Legal Services; Linda Björkenheim, Executive Vice President at Slush; and Mia Ihamuotila, Senior Trainee at Castrén & Snellman. Noora Wallenius, Supervising Legal Tech Trainee at Castrén & Snellman, moderated the panel, which focused on the topic "What skills are expected from lawyers in the future – what will remain the same, what will change?".
Key trends and skill requirements
There was a unanimous consensus among the panelists that future lawyers need to prepare for change and remain open to developments. They identified several trends that are already apparent and provide insights into the future of the legal profession:
Generative AI: Information retrieval, document drafting, and various analytical tasks can be performed much more efficiently than before, requiring a shift towards a more holistic expertise and emphasis on human skills in the work of lawyers. Law firms will have to rethink their pricing models and their lawyers' performance evaluations to ensure the best incentives for creating client value. It is also essential to create a seamless division of labour between humans and technology.
The importance of data: technological advances will inevitably lead to a significant increase in data volume, and legal service providers, as well as individual lawyers, must understand how to manage all this data and how best to leverage it for added value. This increase in data volume highlights the importance of not only data management but also data quality. The ability to understand, interpret and apply data leads to better decision making in the daily work of lawyers.
Customer centricity: with technological developments, the importance of the customer experience is increasing, and companies need to better understand the needs of the end users in order to provide higher quality services. Solutions included adopting an iterative project model rather than the current "get it right the first time" kind of thinking and applying more design thinking. Additionally, developing customer relationships and interaction skills are becoming even more important in a digitalizsing environment.
Broad skill set: lawyers need to broaden their skills beyond traditional law to better respond to the demands of a rapidly changing world. Developing creative problem-solving skills is essential. The legal profession is not isolated, so the lawyer of the future is expected to be prepared to step outside of their traditional role to solve clients' problems.
The role of a new generation of lawyers
Many newly qualified lawyers, as well as law students, participated in the event, leading to a lively discussion on the role of young lawyers in the changing legal landscape.
The debate stressed that the lawyers of the future have to be more than just legal experts; they must be capable of applying their broad set of skills to solve complex, multidisciplinary problems. The lawyers of the future cannot hide behind legal clauses but must also stay up to date on both business and technological trends, as well as societal changes.
The debate also emphasized the importance of the new generation of lawyers embracing creative problem-solving skills and developing their human abilities, such as empathy and communication skills. These "soft skills" are essential as lawyers work with clients, building trust and tailoring solutions to meet their unique needs and objectives.
Finally, the panelists offered some advice to young lawyers for their future careers:
Don't be limited by job titles: the title of lawyer is just one facet of your identity. The future of work will increasingly focus on versatility and the ability to apply knowledge in new ways. Be open to change, as the skills of the future may be something we can't even envision yet.
Combine skills: think about what unique qualities you can bring to the table as a lawyer. Perhaps you have a particular skill set in technology, communications, or even business that, when combined with your legal skills, creates unique value.
Make room for yourself: be active and proactive – make yourself useful. Be the person who introduces new ideas and solves problems before they escalate. In the future, everyone will want to collaborate with such lawyers.