Ilves' 2022 – on the path to growth
We would like to thank our clients and business partners for being part of our growth in 2022. The new year starts on a positive note. Our SaaS business is growing both domestically and internationally and our project business activities are on a solid footing.
Legal tech as the spearhead

Last year our focus was on finalizing the Ilves product platform, tailored to the needs of the legal field. In practice, this meant developing the pro version of the new Ilves MyActivities activity and time tracking product in collaboration with our clients.
Alongside this, our Ilves Search enterprise search product's capabilities have evolved. Both our products use the same backend data capabilities and data source integrations of our EMIE backend product, allowing us to bring all types of information needed for expert work into one place.
Choosing the legal field as the spearhead of our productization activities has proven to be the right decision at the current stage of our company's development. It has allowed us to partner with top players in the legal fied. We are pleased to introduce DLA Piper Finland Oy as our new reference client. During the past year, we have also deepened our cooperation with CSI Helsinki Oy by better integrating our services (this is detailed below). In the early part of this year, we aim to add to our reference list of clients.
Our product portfolio is well suited for other professional services as well, such as ICT professionals. For example, Otaverkko, has implemented Ilves Search to make it easier to find the information needed for their work.
From the product development phase to the growth phase

Last year, we continued to invest significantly in product development. In addition to customized solutions for our clients, we made the following development investments last year that will enable growth in the coming years:
In close cooperation with our existing and new clients, we developed the Ilves MyActivities Pro time tracking product.
We developed a two-way integration for the CSI practice management software developed by CSI Helsinki Ltd. Read more here.
We developed a new Planmill integration for the Ilves MyActivities Pro version. Planmill is an activity management system used in the legal, consulting and ICT sectors.
We developed a data source connector for Enreach (unified communication) service. This integration allows Ilves MyActivities to show call data for fast and reliable time entries.
We developed a versatile Management Console – view for our clients' admin users, enabling self service user management and analytics services for our products.
We improved our Microsoft 365 SharePoint data sources.
We continued to develop our cloud hosted service model for all products in the Ilves product family.
Also see our development actions in 2021 here.
We organized for the second time the Nordic Legal Tech Day (NLTD) Helsinki, in cooperation with Laissa Oy and Relevent AS. It brought together around 140 participants from dozens of major Finnish companies and legal services and legal technology providers at the venue Musiikkitalo. The agenda of the event provided a 360-degree view of the current state and future trends of digitalization in the legal field. Next year's event will take place on 15 November 2023 at the same venue.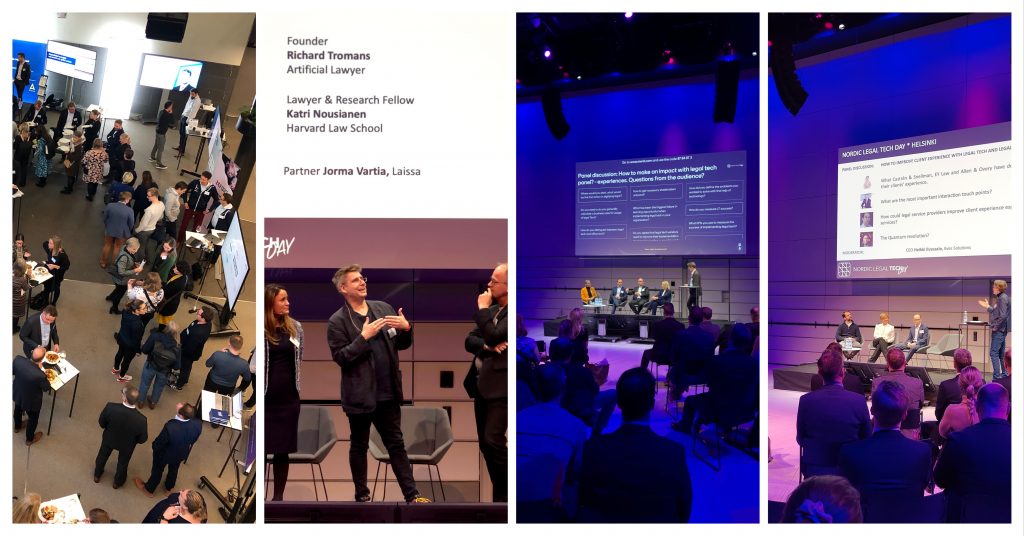 In addition to the NLTD event, we also organized three legal tech networking events (Legal tech glögit) in collaboration with leading industry players. This year, the events were hosted by Roschier, Ment and Ilves and Dittmar & Indrenius. See all legal tech networking events 2019-2022 on my profile page. In this way, we continued to play our part in accelerating the digitalization of the industry by connecting industry players and enabling knowledge sharing and collaboration.
I also had the opportunity to speak about the digital transformation of the legal field at the Global Business Lawyers Alliance conference in Helsinki, at the European Circuit event in Lisbon and at a seminar organized by the Finnish Bar Association.
I was also appointed to the European Legal Tech Association's (ELTA) Ambassador Finland position. In this post, I am responsible for connecting Finnish and foreign legal techies. Read more about ELTA and join us! I will be happy to tell you more.
Our successes

Looking back, we are proud that we successfully implemented many major developments, earned the trust of old and new clients and took responsibility for driving forward the digitalization of the legal field.
We are also proud that all of our clients continued to use our services over the past year. In fact, many of our existing clients bought even more of our services and products.
The development of the Ilves MyActivities Pro time tracking product has further enhanced our skills in developing truly intuitive easy-to-use products. This has been the key theme of our strategy. Our goal is to develop products that solve real knowledge work problems and do not require any user training. This is also what we have achieved with the development of Ilves MyActivities Basic and Pro services, based on the feedback we have received from our clients. This provides a good basis for the scaling of our SaaS business.
Above all, we learned many new things together with our team and our ever-growing network of clients and partners. We are very grateful that our team is supported by the best developers in the industry, from whom we received valuable feedback for the further development of our services.
Ilves' year of growth 2023

This year, we will continue to pursue our mission of making data valuable with determination for the success of our clients. Based on our customer feedback over the past year, we believe we are on the right track.
Turning our clients' data assets into customer value and economic benefits is a demanding task for all businesses. At Ilves, we know how to do this, and we make it easy for our clients without breaking the bank.
Indeed, 2023 looks promising, despite having started off in an economic slump. The early part of the year will see several implementations of our legal tech products, which we are very excited about. I believe that our direct industry and product focus will help our clients to achieve their own growth objectives, in turn, helping us grow.
We expect that additional sales to our existing clients and new customers will increase our SaaS business turnover by more than 40%, as last year. We expect growth in the first half of the year, particularly due to several of Ilves MyActivities Pro time tracking implementations, both in Finland and abroad.
The data capabilities of the Ilves EMIE data and integration platform will enable cost-effective integrations and customized data solutions for our clients. So, we expect growth from data and integration projects utilizing Ilves technology as well. Read more about Ilves EMIE and our customized solutions offering.
A concrete example is our Ilves Data Boards matter tracking product, which brings client and assignment data into one place and demonstrates the lifecycle of a document across different systems. It leverages the data capabilities of Ilves EMIE and the user interface technology developed for the MyActivities activity and time tracker. However, the user interface is always tailored for our clients' needs as a agile development project.
Additionally, we also offer legal tech consulting in close cooperation with the leading professionals in the industry. Our partners include (among others) Laissa, CSI Helsinki, Zefort and Ment. Together with domestic top players, we offer assistance in key areas of digital transformation areas such as contract lifecycle management. Our network has expertise for all legal technology and service design needs of the legal field. See our service offering here.
This year we firmly believe that the top players in the legal field will continue to invest in improving their billing and time management processes, knowledge management, and better employee and client experience. To achieve these goals, we offer a high quality Ilves legal tech product suite and our versatile digital transformation expertise.
Wishing you a successful year 2023. Let's talk!
Kind regards
Heikki Ilvessalo